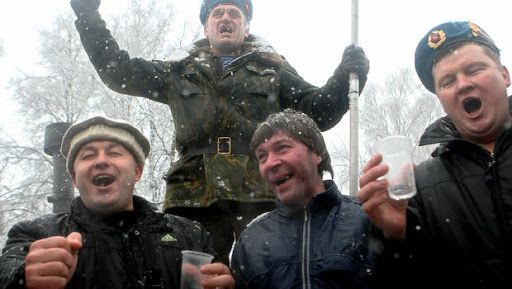 Update: East of Minsk
We're in the bus finishing up our Eastern European tour when Bill insisted upon finding a special set of jazz strings craving 'steel overtones with capitalist melodic intonation' he once heard on Radio Free Europe while Parisian tub soaking somewhere on the Left Bank. Having heard this Jim Morrison-esque request before, and knowing he just had to pee and was too embarrassed to vocalize a requested stop, Greg and Jimmy palmed our 'here we go again' wave to the driver.
Sensing urgency, Vald (our bus driver) dutifully found a Russian-pub looking place in the basement of one of those dreary Soviet era vertical ice cube trays of an apartment building whose black and white photographs are often seen displayed at ill-attended urban gallery shows. So we filed in, figuring why miss an opportunity to douse our vocal cords with some local vodka. The PCB dummies? Whoa not us. After all, Vlad was driving.
Well somebody spilled the goulash, tipping off the crowd that the rock band who performed last night's full house gig just a few kilometers back, had indeed entered the premises.
In no time there were repeated chants of "Ve lovf da Pianted Cooov Bahhnd!"  "You boys vill leev weeth us now!", voiced a pack of swarthy uni-browed locals threatening us with screwdrivers.  Lucky for us they were of the liquid not the tool type. Wishing to avert an international crisis we obliged and knocked back countless gratis drinks toasting everything from cheap European guitars to Trump's hairstyle to Putin's shirtless horsey rides. All while avoiding the inevitability of our not staying long enough to see what livestock they might gift us.
The afternoon wore on and somewhere amidst the crowd rendering an a capella interpretation of "Back In The USSR" blended with "The Macarena"...we found our moment to invisibly and quickly tumble out the back door and into our bus, greeted by Vlad's nervous revving. We hit the Russian road post haste.
By the time our potential adoptive families knew we were gone there was nothing of The PCB but stale diesel fumes and fresh Michelin tracks pointing to Gdansk.
We did manage to make the next gig with empty bladders, bellies full of local swill, and wallets intact. ......Alas, Bill never did score any strings.